Company strong strength is the biggest confidence of a brand
March 19, 2022
With the development of quality, one product certification of Bajie has once again reached the forefront of the industry. Bajie's products have obtained MFI certification, the quality authorization of the world's major "Apple" manufacturers, and become the exclusive MFI certified shared power bank solution provider. The honor of "the first in the shared power bank industry" has once again enhanced the brand influence of Bajie Charging, realize its brand's advancement step by step.
Quality, the backbone of a brand
Products are the foundation for companies to survive in the market, and quality is the foundation and the backbone of a brand.
1% defect is a 100% negation. Bajie attaches great importance to products and quality. From raw materials to finished products, we have established a strict human inspection and machine testing mechanism, and repeated tests and adjustments for raw materials, semi-finished products and finished products more than 10 times. We are responsible for the quality of each product and ensure that each product from Bajie is the reliable and good product.
Strict production standards create a reliable Bajie Charging.
Bajie Charging adheres to the principle of "doing one thing to the extreme, rather than doing 10,000 things mediocrely". Bajie insists on independent research and development, refined technology, and continuously improves product quality
All the sacrifices won't be a fail. After many tests and audits, the products of Bajie Charging finally obtained the MFI certification. Apple's MFI certification can be called "the ceiling of the quality". It is also one of the most difficult certifications to obtain. The audit conditions are extremely stringent, with only a 2% success rate.
"Made for iOS", abbreviated as MFI, is a license from Apple Inc. to the external accessories produced by its authorized product manufacturers. The threshold for applying for MFI certification is high, the cycle is long, and the process is complicated. In addition, manufacturers applying for product certification need to adjust and calibrate the products they apply for certification many times.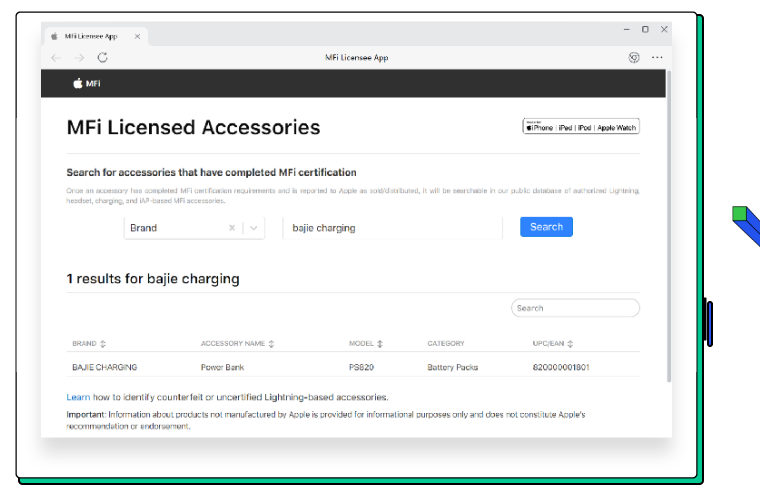 Apple will require the applicant company to have an MFI system, and will also comprehensively consider the company's qualifications, scale, influence, research and development capabilities, and supply records. Bajie is the industry's exclusive MFI certified shared power bank solution provider.
Safe and reliable, the worthy of users' trust
Excellent products and high-quality services have made Bajie to quickly seize the market since 2018, and enjoy a high reputation in the industry with the quality reputation of "sincerity, precision, refinement".
Bajie Charging has built a global e-commerce channel layout covering Taobao, JD.com, Pinduoduo, Alibaba and other mainstream e-commerce platforms domestic and abroad, serving times of users is more than 100 million.
At present, Bajie has provided OEM customized services for more than 200 enterprise customers. These include: Hong Kong "Easy Charge", Taiwan "Qiosk" and other brands.
We have provided OME customized services for more than 300 cities (New York, Rio de Janeiro, Buenos Aires, etc.) and more than 200 partners overseas, including: British "Battpoint", American "Hi Charger", "PP2GO", "U Charger", etc. It is to form a long-term strategic cooperative relationship with British "Battpoint".
Conquer height to become a new height
Bajie Charging has been focused on design and research and development process, and has absolute advantages in wire, charger, software and hardware configuration, etc. and obtained the Apple MFI certification, becoming the first brand in the shared charging industry to obtain the Apple MFI certification, with leading technology and quality in product development, product quality, and product compatibility.
After 5 years of rapid development, Bajie Charging is being understood, accepted, recognized and loved by more and more consumers, and its sales growth rate is far ahead of similar products.
In the future, Bajie Charging will set sail with a new attitude and full of enthusiasm, with the new five years as a new starting point, with "first-class channel resources, strong technical force, excellent product quality, and perfect after-sales service", to provide provide competitive products and services for the Global consumers and corporate customers. Bajie will rely on global supply chain resources and huge data platforms to build a world-class electronic consumer product service ecosystem.